CITRA MEREK (BRAND IMAGE), LOKASI, DAN BIAYA PENDIDIKAN TERHADAP KEPUTUSAN MAHASISWA MENEMPUH PENDIDIKAN DI UNIVERSITAS MUHAMMADIYAH PALEMBANG
Ilham Kurniadhi

universitas iba
Keywords:
Brand Image, Location, Cost of Education, Student's Decision
Abstract
This research was conducted to analyze the influence of brand image, location, and educational cost variables on student's decision to pursue education at Muhammadiyah University of Palembang partially and simultaneously. This study uses the primary data obtained through questionnaires. Samples are taken as many as 100 students S-1 Muhammadiyah University of Palembang by using purposive sampling method. Analytical techniques used are multiple linear regression analysis, F test and T test. The results of this study indicate that the brand image, location, and cost of education partially and simultaneously have a significant effect on the decision of students to study at the University of Muhammadiyah Palembang. In this research, location variable becomes the most dominant variable influencing student decision to study at Muhammadiyah University of Palembang followed by brand image and education cost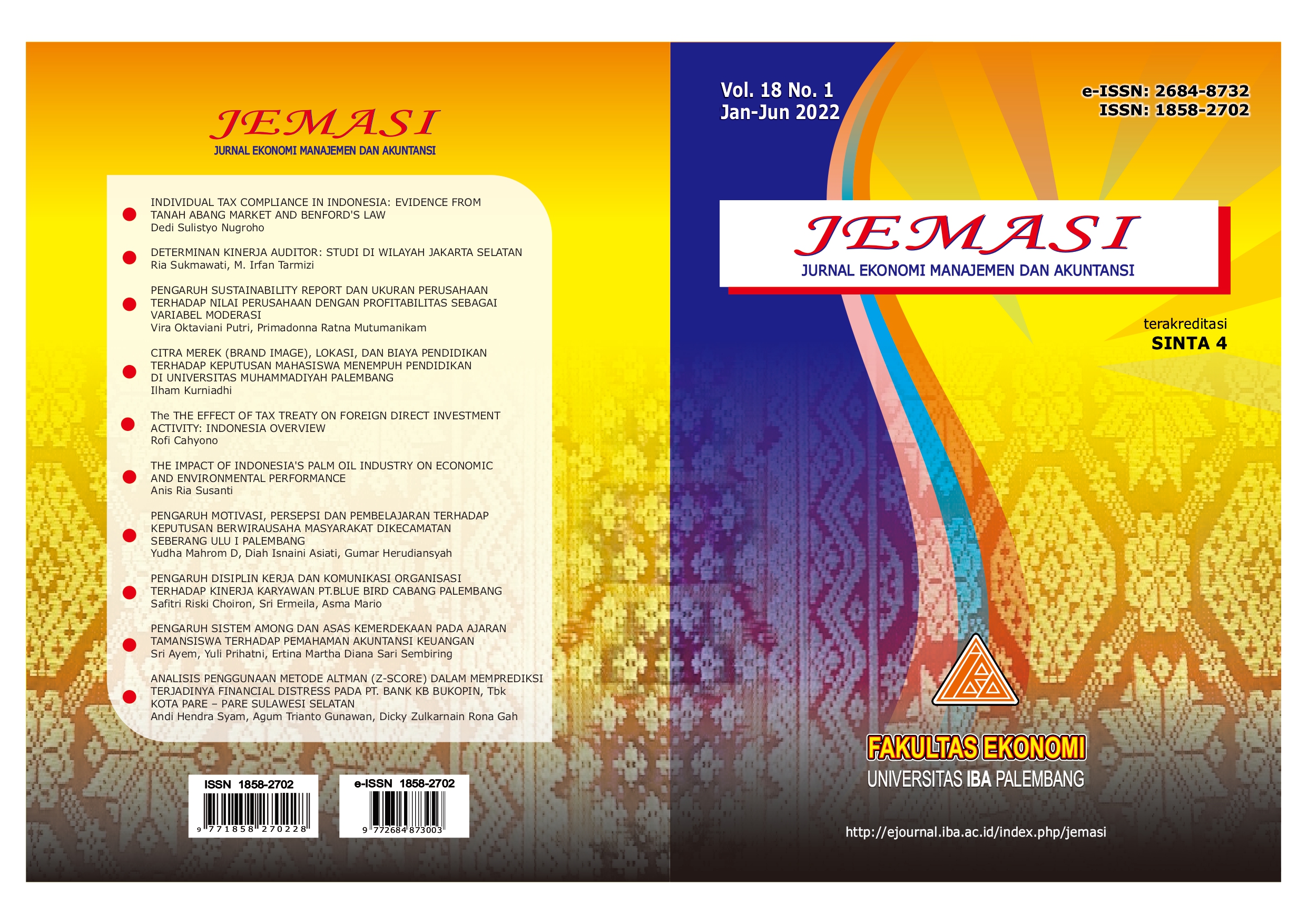 How to Cite
Kurniadhi, I. (2022). CITRA MEREK (BRAND IMAGE), LOKASI, DAN BIAYA PENDIDIKAN TERHADAP KEPUTUSAN MAHASISWA MENEMPUH PENDIDIKAN DI UNIVERSITAS MUHAMMADIYAH PALEMBANG. Jemasi: Jurnal Ekonomi Manajemen Dan Akuntansi, 18(1), 40-48. https://doi.org/10.35449/jemasi.v18i1.534
Copyright (c) 2022 Ilham
This work is licensed under a Creative Commons Attribution-ShareAlike 4.0 International License.