MAXIMIZING THE INDONESIAN'S TAX REVENUE FROM MICRO, SMALL, AND MEDIUM ENTERPRISES (MSMES) SECTOR
Alfarisi Muslim

Universitas Indonesia
Keywords:
Tax Compliance, Tax Rate, Tax Knowledge, Equity and Fairness, MSME
Abstract
Micro, Small, and Medium Enterprises (MSMEs) have an essential role in Indonesian's economy. However, the contribution of MSMEs to Indonesian taxation is still far from reaching the maximum point. This research examines the effect of three critical factors on tax compliance among the Micro Enterprises in Indonesia, namely Tax Knowledge, Tax Rate, and Equity and Fairness, by using multiple regression. An online survey was conducted to collect data from 122 respondents in Surabaya and focused on micro-enterprises taxpayers. The result indicates that Tax Knowledge, Tax Rate, Equity and Fairness significantly impact tax compliance among the micro-business taxpayers. Tax Knowledge had the most significant impact on compliance behavior among the taxpayers.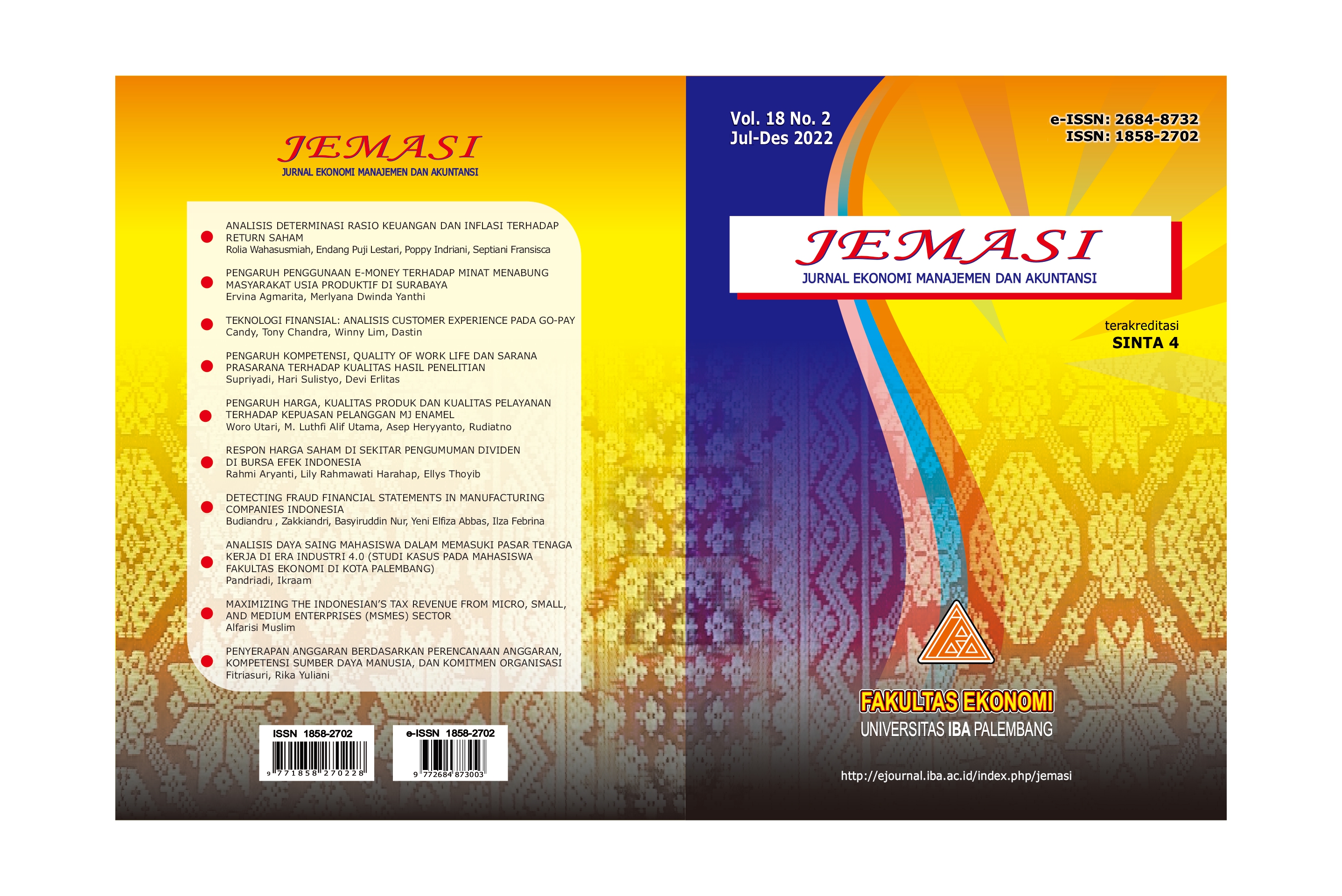 How to Cite
Muslim, A. (2022). MAXIMIZING THE INDONESIAN'S TAX REVENUE FROM MICRO, SMALL, AND MEDIUM ENTERPRISES (MSMES) SECTOR. Jemasi: Jurnal Ekonomi Manajemen Dan Akuntansi, 18(2), 228-238. https://doi.org/10.35449/jemasi.v18i2.533
Copyright (c) 2022 Alfarisi Muslim
This work is licensed under a Creative Commons Attribution-ShareAlike 4.0 International License.