Pengaruh Perkembangan Koperasi Terhadap Kemiskinan dan Pengangguran di Provinsi Sumatera Selatan 2006-2019
Endang Hasan

Fakultas Ekonomi

Dwi Eka Novianty

Universitas IBA Palembang

Sri Ermeila

Universitas IBA Palembang
Keywords:
Cooperative, Poverty, Unemployment
Abstract
The implementation of cooperative's function are reduce unemployment and alleviate poverty, in one condition, that the cooperative growing rapidly.  Therefore, the main objective of this article is to know the effect of cooperatvie growth on poverty and unemployment ,in South Sumatera Province in term of 2006-2019. The analysis based on secondary data that obtained from Regional Bureau of Statistics.
The result of the analysis are cooperative growth influence only 0,3% to poverty and, 1,6% to unemployment. In the other words, cooperative growth is not significant effect to poverty and unemployment. That is because coopertative inability to growth and most of the cooperative have many problems both internal and external.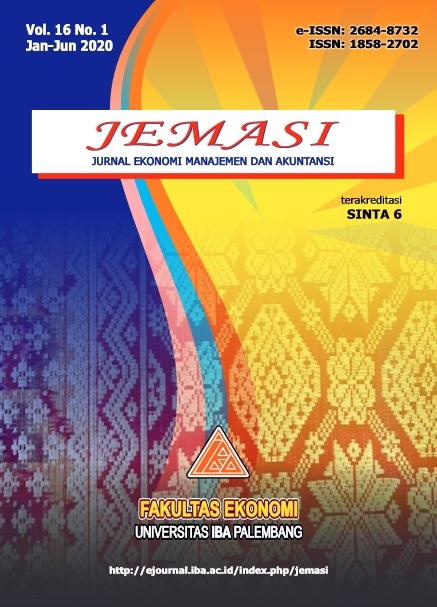 How to Cite
Hasan, E., Novianty, D. E., & Ermeila, S. (2020). Pengaruh Perkembangan Koperasi Terhadap Kemiskinan dan Pengangguran di Provinsi Sumatera Selatan 2006-2019. Jemasi: Jurnal Ekonomi Manajemen Dan Akuntansi, 16(1), 100-109. https://doi.org/10.35449/jemasi.v16i1.104