MODEL PENGUATAN (REINFORCEMENT MODEL'S) UNTUK MEMOTIVASI KELOMPOK USAHA KECIL MIKRO BINAAN BDC SRIWIJAYA PALEMBANG
Ellys Thoyib

082180367399

R. Y. Effendi

Universitas IBA Palembang
Keywords:
Reinforcement Model, Motivation, KSM
Abstract
The article "Reinforcement Model's to motivate micro small businesses under the guidance of Sriwijaya BDC" is intended to provide solutions to the Government, stakeholders and Sriwijaya BDC so that the knowledge that has been given in financial management training and business plans, innovation in the taste of kemplang, packaging technology and quality. The study was conducted in November 2019 to January 2020 with 70 respondents, namely participants who attended the training. Data obtained through the distribution of a closed questionnaire, and statements in the design in accordance with the needed information. It is known that the response of thinking, emotions and attitudes of participants to the knowledge gained from the training is a positive response, but the power of motives to direct the motivation to implement that knowledge into their business management is still low. The solution is proposed to provide internal and external reinforcement to the motives so that they have the power to direct motivation so that the participant's behavior is along with the response of thinking, emotions and positive attitudes.
Keyword's: Reinforcement models, Motivation, KSM.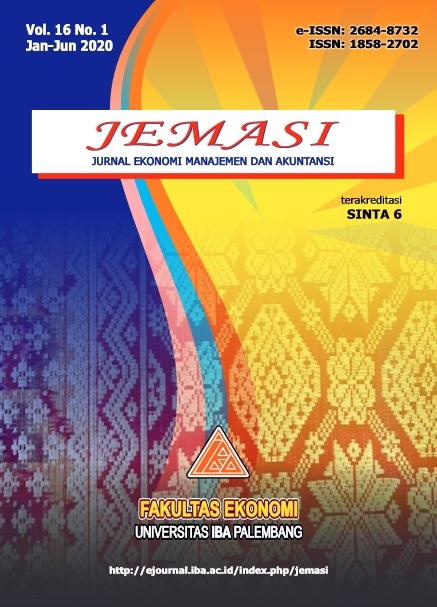 How to Cite
Thoyib, E., & Effendi, R. Y. (2020). MODEL PENGUATAN (REINFORCEMENT MODEL'S) UNTUK MEMOTIVASI KELOMPOK USAHA KECIL MIKRO BINAAN BDC SRIWIJAYA PALEMBANG. Jemasi: Jurnal Ekonomi Manajemen Dan Akuntansi, 16(1), 86-99. https://doi.org/10.35449/jemasi.v16i1.103